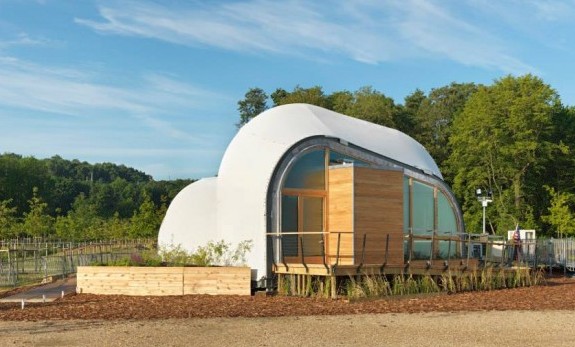 TechStyle Haus
Shawmut Construction reached out to H&W to see if we would help them and a local team in the 2014 Solar Decathalon. Participating teams built and designed a leading-edge dwelling that produced its own energy for a fully-equipped kitchen, heating, air conditioning, lighting, computer and TV. Ken Bertram advised and coordinated on the millwork end. H&W is cut and machined parts and components that the students assembled. The students impressed Ken with their eagerness to learn and absorb as much information as possible. They ran with an idea and built on it.
The college students tackled their 750-square-foot energy-self-sufficient home named "Techstyle Haus" (textile house) in a Providence warehouse. Local students from RISD (furniture design, textile design and architecture majors) and BrownUniversity (engineering and environmental studies majors) worked with students at the University of Applied Sciences in Erfurt, Germany.
H&W's participation in this project furthered our relationship with Shawmut Construction by partnering with them beyond construction projects. H&W gained insight to a new set of resources for future young talent, and Herrick & White enjoyed working with Brown University and Rhode Island School of Design.
The Techstyle Haus team of Brown and RISD students moved their house from the warehouse, set it up outside, then labeled, dis-assembled, and packed all the parts, large and small for shipment. The crew then met it in France to re-build it in time for Solar Decathlon judging. The students were thrilled to win 3rd place in "Comfort Conditions". They also placed 6th in both "Communications & Social Awareness" and in "House Functioning", and 10th in "Energy Efficiency". "We could not have achieved this without the considerable work and effort from everyone of our team's students, faculty, and sponsors!" The Solar Decathlon Europe 2014 chapter of Techstyle Haus moves on to its final site at the Domaine de Boisbuchet, in Lessac, France for use as a dorm.